1984 Unimog 416 DoKa, the ultimate hunting, fishing, overlanding, recovery and expedition vehicle
Work done
Chassis blasted , primed and sprayed repeatedly in black, chip-resistant enamel
Full cab respray, original Mercedes Ivory
High tensile / stainless nut and bolt complete replacement
Cab mounts
Mechanical
Brand spanking new OM352 six cylinder 5,7l naturally aspirated 130HP motor
2 x new 150l diesel tanks with dual level gauge, steel lines with one return. Electric solenoid pump to
balance tanks. (safe 2,000km freeway range excluding reserves)
New Racor-Parker auto-drain water trap and primary, double secondary and tertiary fuel filters
Tuned injector pump
"Speed Axle" gearbox / wheel hub reduction box portal axles (governed to 110kmph on the flat!)
Simplified pneumatically actuated full differential and transfer case lock on single range selector lever (High
+ Low + Low with transfer differential lock)
4 speed splinter box. High Range: 4 forward. Low Range: 4 forward and 4 reverse. 4X4 and difflock
available in all gears. Mechanical gate gearbox idiot-proofing.
Halda Tripmaster redundant mechanical odometer
Original VDO tachometer with paper recorder
High volume belt-driven air compressor
Pneumatic toggle lock lever handbrake with Quick Exhaust
Prop shafts balance
Wheel/axle balance
Brakes
Double disc brakes all round
New pads
New flexible hoses and steel lines
New air booster
Electrical
Full rewire with dual 12V battery negative earth system
New heavy duty alternator
Second 98AH truck battery with ignition solenoid
3 x external 12V weatherproof glanded snap-close power jacks for inspection/spot lights
New inspection/game viewing spot
3 x cigarette lighter sockets
Gadgets, comforts and conveniences
Original 4 ton roof-rack / roll bar
Double cab
Standard post spread spots
Roof rack folding Hella halogen flood spots, two forward, one back
Cab-control 360 degree x 220 degree GE police 100W halogen pencil spot
700W two channel bridged amp driving four 6'" x 9'" boarded cab bench speakers with external
weatherproofed glanded speaker jack driving mobile single box 2 x 15" earthquake subs and 2 x 8" pizer
horns with 15m extension. Isolator switch, remote RCA and mini-jack inputs suitable for notebook / iPod /
mp3 / players / TV
Blackberry Storm cradle charging display mount handsfree kit
Garmin Streetpilot 720 7" screen moving map navigation system with bluetooth handsfree telephone kit,
mp3 player, full-screen rear camera view, AV line in for DVD/camera view, Garmin 2010 Comprehensive
Southern Africa maps.
Two new magnetic Trimble roof patch GPS antennae's and channelled 2 x RS232 output 0.9-30V receiver
units with USB adaptor for tracker, logger and laptop use
New 12VDC to 12VDC Meanwell transformers for powering sensitive electronics
New 12VDC-220VAC 50Hz 750W Meanwell inverter
New ISRI black leather reclining seats on adjustable rails
Full interior rubberising including engine cover
Steering wheel spin grip
New oversize, level, square original rubberised tray on rubberised engine cover for laptop, cigars and stuff
that otherwise drifts about the cab
Heat / sound insulation
New exhaust with HeatFlow asbestos / glass-fibre insulation for cool, quiet cab
New hood liner and door panels
New floor watertrap mats
New sliding back window
New Skylark large rear sunroof
New Stirling oversize side-mirrors
Full air intake snorkel
New door rubbers
New original dash skin rubber
New Cherry Saligna / 30mm angle-iron full panelled high-side chassis mount bin with drop chained tailgate
Gearbox rear PTO take-off mount
45-60 ton front PTO shaft drive MB Werner Gagenau winch with both cab lever control and direct control,
88m of new galvanised 10mm steel rope with HT safety hook, new 20m 10mm galvanised steel rope
extension / strap, new 10m 16mm galvanised steel rope strap, 2 x new 4m 4T yellow tree-friendly anchor
straps, new 2T snatch block, 2 x 40 ton D-shackles, 2 new medium crow bars, 2 new large crow bars, 4
new sets of leather apron winch gloves, new plastic 8kg clout hammer. Optimal for uprooting large and
pesky tree stumps at 110 meters
New brass quick-coupler air take-off, new 10m Goodyear 10mm industrial braided rubber hose quick-
coupler air line with new tyre-inflator, new Chicago Pneumatics 2009 1/4" die grinder with selection of new
heads, new Chicago Pneumatics 2009 1/4" pneumatic drill and with new HSS drill set.
New hack-saw and blades
New Gedore open / ring spanner set
New Gedore socket wrench set
New pliers, side-cutter set, bloudraad, screwdriver set, shifting set
New Fluke multimeter
Two new lockable steel tool/gear trommels
New 120l rigid Safari Cooler that fits 8 cases of cans and plenty of ice while seating 3 people when closed
35l Coleman ambient cooler / heater
New Afrox 9kg LPG with 2 individual burner plates and gas light with 10m extensions
Spare wheel on roof-rack
Very high-lift jack on roof-rack
Wheel spanner and extension
The complete works of Raold Dahl, Bach, Chopin, Rachmaninoff, Faithless, The Streets, Manu Chao, Paul
van Dyk, Led Zeppelin, Magga Stina, Kent, Goran Bregovik, Max Raabe, The Cult, Detektivbyran and
Schubert
New locks, catches and hinges with spare door and ignition keys on new original keyring!
Contact:
Rob Haesloop
mobile: +27-82 440 3538
rob@haesloop.co.za
Durban, South Africa
FOR SALE!
SOLD!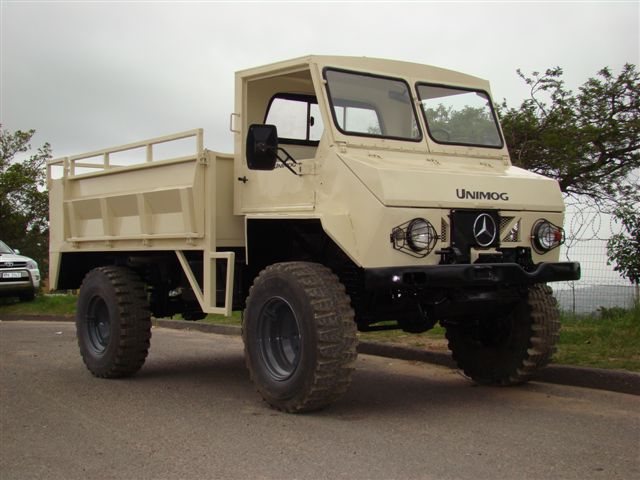 1982 Unimog 416 with OM352
Ex-military, disc brakes all round, 60,000km.
Very good condition and fully licensed!
Good tyres all round plus two spare wheels.
Original door-tops included (not shown in above picture).
Absolute bargain at R140,000
Sean +27 83 6311914
smcranes@telkomsa.net
---
23 NATO U435 MOGS FOR SALE IN DURBAN!
2 Remaining
Martin Steyn has purchased a small fleet of mogs gathered from all over the EU. Martin writes:
All are of the U435 type. The model years vary from 1984 to 1988 while the engines are either the turbo (OM366A) motor or the non-turbo version. Majority of the turbo units have the fast axles. All have the 8 speed gearbox with diff locks on both axles. Most of the units have been 'preserved' in large hangers with preservation oil in the engine, gearbox, diffs etc and a preservation product applied under the chassis is still visible.

The vehicles where kept in this condition, seldom driven and preserved for the Cold War that never happened.
On the closed rear body; the body is insulated, inside there are integrated lights, the side steps are automatic and operate pneumatically. In the rear is a stand alone heater with a separate battery compartment for auxiliary power if wanted. In the roof of the rear body are 3 air vents with the third integrated with an additional light fitting. The 4 stretcher beds can be removed while there are numerous cupboards and storage shelves. There are sliding windows between the front cab and the rear body. There are also numerous external under body compartments and a 2 x jerry can holder.
The drop down version has the Mercedes rear bin. There is no heater or cupboards etc. There are under body compartments.
In the cab; the is a large hatch in the roof where a passenger can stand (on the drop-down seat back) and look through. Most vehicles have a spot light on the dash with an extension cable allowing it to be extended out of a side window. There is an isolator switch cutting all electrical power to the vehicle (except the rear body which has it's own power source). A fantastic feature of these vehicles are the military trip switches that replace the conventional fuses at the top of the dashboard. All vehicles come standard with the 1.2 meter fording depth which is again a non-standard feature. There is some under seat storage on the passenger side.
The military lights and ,where applicable, the medical crosses on the bodies will be painted over. The rotating flashing lights on the top front and rear of the rear body are removed but retained should the buyer wish to return them to their original condition (although the position of these lights would make for a wonderful position for working lights - remembering that the power is already there).There is an industrial type tow hitch at the back with air brake connectors for the trailer.
The mileage on the vehicles vary from 15000 km's to 35000 km's - they are in very good condition (even without taking the model year into account).
You can get Martin on msrsteyn@gmail.com
or +27 82 4522 151